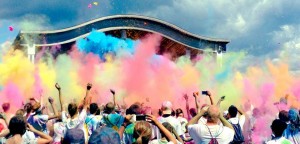 On Sunday, November 9th, Dysart Community Center's Teen Arts in Action Program (TAAP) will receive 50% of all funds raised from the 5k Colordash run being held at Surprise Stadium in Surprise, AZ! In addition to the 5k there will be food, games, and other activities for families and individuals. Please come out, have a great time, and support the growth and education of local youth!
TAAP gives teens the opportunity to engage their community through various visual, musical, and performance art forms. It allows them to build a positive self-image, encourages a life-long love of learning, and teaches teens to be an uplifting force in their community while avoiding negative behaviors such as drugs and crime. Youth in this program are encouraged to think critically about he ways in which they can have a positive impact on the world around them and are given the tools they need to do so. Funds received from this Colordash event will allow Dysart Community Center to expand this program to a year-round schedule and to serve a greater number of teens.
Registration for this event can be found at the below link. Thank you for your support, we look forward to seeing you on November 11th!
http://thecolordash5k.com/Surprise%20AZ.html